Stage One BMW Speaker Upgrade for G31 Wagon with Standard Hi-Fi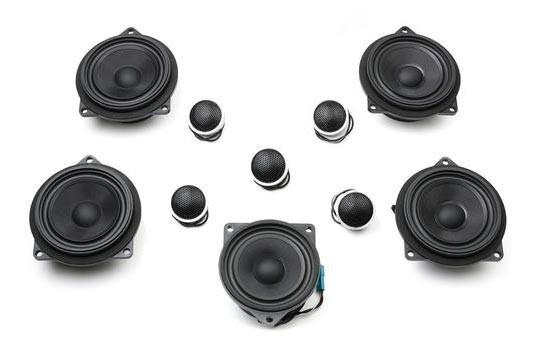 Stage One BMW Speaker Upgrade for G31 Wagon with Standard Hi-Fi
Product Details
GET UNBELIEVABLE, CRYSTAL CLEAR SOUND. JUST BY REPLACING YOUR BMW'S SPEAKERS
We took your factory BMW speakers and re-engineered our upgrade for one thing: clarity. So you can simply swap your original speakers for ours without changing anything else in your audio system, and the result is smooth, natural, yet unbelievably detailed reproduction of your favorite music.
PLAY YOUR MUSIC LOUDER. AND ENJOY EVERY NOTE: We engineered the Stage One speakers to produce higher quality sound: a wider range and more balanced reproduction of the bass and treble you are currently missing. That's because, unlike your factory BMW speakers, we use proven audio technology: woven fiberglass cones, butyl rubber surrounds, and silk composite tweeters. These technologies working together, result in speakers that remain distortion free at higher volumes for accurate, natural, beautiful sound volumes much louder than your factory speakers.
DESIGNED TO FIT AND OPERATE JUST LIKE YOUR FACTORY SPEAKERS, ONLY BETTER: We engineer our speakers with the same unique size, shape, connectors, impedance, and efficiency as your factory speakers. That means installation is as simple as unbolting your factory speakers and bolting ours in, and it's totally reversible, too. No one will ever know you've upgraded your audio system except you. Unless, of course, they hear it.
INCLUDES EVERYTHING YOU NEED FOR CRYSTAL CLEAR SOUND, EXCEPT TOOLS: Replaces every speaker in your BMW (except subs), and includes everything you need except basic tools, available separately.
100 DAY IN CAR TRIAL, FREE RETURNS! - Install, audition, and fully experience your new audio gear. If you don't love it, we'll cover return shipping and give you a full refund (U.S. customers only).
100% PLUG & PLAY INSTALLATION: Simply unbolt, unplug, and remove your factory speakers and plug ours in. It's that simple. Really. (NOTE: 1996-1999 BMW 3 SERIES / M3 excluded)
SO SIMPLE, YOU CAN DO IT YOURSELF: Ever put together IKEA furniture? Then you can install the Stage One. Includes step-by-step instructions, and is designed to be easy enough that anyone can install it in just a few hours.
4 YEAR WARRANTY: Everything we sell has been engineered for durability and longevity, and we know what we sell will last. And last. And last. That's why our upgrades are backed with our industry leading 4 year limited warranty. So if something breaks, send it back. We'll replace it at no charge.
Installation Guides
No installation guides available.
Please contact us for more information on installation of this product.
Frequently asked questions
Can I install the Stage One myself?
If you can put together IKEA furniture, you can install our Stage One in your BMW. Here's why it's so easy to install:
The Stage One is designed from the ground up to be easy to install. Installation doesn't involve complex wiring or modifications to your BMW. Just unbolt the factory speakers and install ours in place, plug in the factory connections, and play! (Some older E36 applications require slightly more work (a dab of glue here and there), but it's always easy stuff!)
Every Stage One comes with extremely detailed installation instructions with photos, or a step-by-step video install guide, or both, so you'll know exactly what to do. Head here for more installation information (http://bavsound.com/help/installationinfo/) on your particular BMW.
Installation is so easy that we virtually never answer a phone call or email regarding the installation of the Stage One. To see how the Stage One installs in your BMW, click here (http://bavsound.com/help/installationinfo/) and enter your vehicle information. You'll also be able to download installation instructions and view the video guides available for your BMW.
I'm still not sure. Who can install my Stage One for me? Can you recommend an installer?
We have authorized Bavsound dealers all over the world that can not only handle the installation for you, but facilitate the purchase of the Stage 1 as well. Visit our dealer section, here - http://bavsound.com/dealers/locate (http://bavsound.com/dealers/locate) If we don't have a dealer near you, many of our customers use this list of local independent BMW mechanics (http://www.bimmershops.com) throughout the U.S. and Canada and have reported great results.
If you can't find an installer that's convenient to you on that list, the great news is that because our products are incredibly easy to install, virtually any place that works on cars can perform the installation. You could take the car to your local mechanic, the BMW dealer, or even any well-regarded local car audio shop -- it's your choice.
Does the Stage One really enhance sound quality? What if I have standard audio system? What about the premium audio system (Harman Kardon, Logic7, DIRAC, etc.)?
Yes, the Stage One really does work and make a dramatic difference in overall sound quality, clarity, and performance, regardless of the type of audio system your BMW was equipped with from the factory (even your "premium" system).
How is that possible? Well, every audio system in every BMW is the makes compromises to reduce manufacturing costs, even the premium audio systems. When we develop each Stage One, we first perform an analysis of the factory audio system in which the kit is being installed, and optimize it to help overcome the issues of the factory audio system, whether that's lack of midrange detail, harsh tweeters, poor imaging, or anything else.
So no matter which audio system you have in your BMW, the Stage One yields incredible results.
How does the Stage One improve sound quality?
Simply put, by using higher quality materials and better engineering, we're able to achieve a much more accurate, and more importantly, enjoyable listening experience for you and your passengers.
All speakers have a variety of characteristics which determine their ability to reproduce recorded music faithfully and accurately: magnet design and materials, voice coil design, suspension, surround material, cone material, and so on.
Vehicle manufacturers make compromises in many of these areas in order to keep costs down.
The end result is often a poorly designed speaker made with sub-par materials (cheap paper cones, plastic tweeters, etc.) that hits the price target they've set... and also sound terrible.
The result, sonically, is generally distortion or poor frequency response and transient response. Translation? Muffled, muddy, sloppy, and harsh reproduction of your favorite tunes.
We make no compromises with our product design or the materials used because we don't have to, so you get great sound without having to change any other components of your vehicle's audio system.
But not only that; every speaker is engineered for the exact BMW in which it's installed, right down to the smallest details. Rather than building your speakers for a specific price point, we've built them to sound great in your exact car and audio system configuration.
No other company can say the same thing.
Does the Stage One Audio Upgrade improve bass response?
Yes and no. Because our speakers are so much higher quality than the factory components and because they are better designed, they'll play more loudly without distortion than factory speakers. In most cases we're working with 100mm midrange drivers, which can only move so much air. However, due to the lower levels of distortion, and with our speakers being slightly less efficient than the factory speakers, the factory woofers will skew slightly higher in terms of output throughout normal listening levels. This means you can enjoy higher listening volumes, or alternatively, slightly higher bass settings on your radio.
However, none of our Stage One kits replace factory subwoofers, and they do not increase the amount of overall bass that is produced (despite the perceived improvement due to the factory speakers no longer distorting). If you really want a serious improvement in bass response and overall sub-bass performance, you'll need one of our Ghost Subwoofer Systems (http://bavsound.com/BMW-UnderseatSubwoofer-Upgrades/).
What type of speakers are included in your Stage One Audio Upgrade? How do your speakers compare to "big name" brands like JBL or Infiniti?
Every Stage One is 100% BAVSOUND exclusive, and uses our proprietary, vehicle specific speakers. They're designed for your exact model and application, and available exclusively through BAVSOUND.
Making a comparison between the speakers that make up our BAVSOUND Stage One kits to off-the-shelf speaker pairs is like comparing apples to oranges.
First and foremost, off-the-shelf parts just plain don't fit in most cases without modifying the vehicle or the speakers. Our speakers are always a direct fit in your BMW, with no modifications to your BMW required. Ever.
Second, aftermarket speakers are designed to be used with an aftermarket amp, and have "standard" impedance profiles and efficiency. If you're planning to use them with your factory amplifier, odds are they won't sound very good. That's because BMW, in most cases, uses non-standard impedances and very high efficiency speakers. When installing aftermarket speakers with your factory amp, generally they won't present the correct impedance to the amplifier, leading to imbalanced output (some frequencies too loud, others too quiet), not to mention possible damage to your factory amplifier.
BAVSOUND speakers are always correctly impedance and efficiency matched to work in perfect harmony with the rest of the factory audio system and ensuring the continued excellent performance of your factory amplifier and/or head unit.
All of that said, when comparing the actual speaker design and how our speakers sound in real world use compared to many, many aftermarket brands, they are, quite simply, exceptional when compared to most aftermarket speakers offered at similar price points. The reason is simple: we're able to use better materials and speaker designs at the same price point because we don't sell through traditional retail channels with 4-5 middlemen. Instead we buy from our factory and sell to you, and that means more speaker for your money.
So in the end, there really isn't a comparison.
What are the specs for the speakers used in the Stage One?
Our company does things a bit differently than a typical speaker company. In the context of what we do - direct speaker replacements for BMWs - the typical specifications are highly irrelevant to the end user. They ARE relevant during the engineering phase, however.
Take wattage, for example: A typical onesize-fits-all speaker company provides this information either to sound as "powerful" as possible or in order to allow a customer to choose an aftermarket amp to match the RMS of these speakers. This might be 50 watts RMS, 120 watts peak, for example, which means that the speaker can HANDLE a constant load of 50 watts, with higher peaks. It says nothing about the level of output or any other aspect of speaker performance.
What we do is very different. We design speakers to work off a factory amplifier that has a set wattage and impedance for each channel, and those values are very different from generic aftermarket values. For example, the factory amp may be putting out (in a Harman/Kardon E46 configuration):
32 watts @ 2.6 ohms - Midbass
24 watts @ 8 ohms - Midrange
12 watts @ 6 ohms - Tweeter
These values are are all over place. Furthermore, they vary between the "Standard" and "Premium" versions of the audio system, and they don't really tell the whole story, as we haven't even talked about the all-important efficiency values which would need to match the factory speakers - or the actual quality of sound reproduction.
Long story short, we decode this mess of information in the engineering phase, use that data to make the best sounding speakers for the exact system in your exact BMW, and then we shelve it - as it will only lead to confusion. Why? The general public typically wouldn't see "12 watts @ 6 ohms" as a good thing, even though it's the best sounding option for their car aside from fully custom systems in the $3,000 - $5,000 range.
Finally, regarding frequency range data for each speaker, again, this doesn't tell us much as we are working with the factory amplifier crossover settings - but typically, all said and done, you'll be hearing as much of the spectrum as humanly possible given the limitations of the factory system's configuration: about 50Hz - 20,000Hz
Do I need to replace my factory amplifier or head unit to install the Stage One?
No, you don't. Because we've carefully selected the speakers used in our Stage One Audio Upgrade, they're optimized to sound great with your factory amplifier.
Even though many customers approach us with the idea that they would like an amplifier upgrade, the vast majority of those who install our Stage One are incredibly happy with the upgrade, and never think about an amp upgrade after it's installed.
But don't I NEED to upgrade my amp to get great sound?
We get this, well, a lot. Again, no, you don't.
The question to ask yourself is why you want an amplifier upgrade. Most customers think they want an amp upgrade for their interior speakers because they want more punch. In other words, they are looking for the overall sound to have more weight and power.
In reality, while an amplifier upgrade for your interior speakers will help to deliver that, a subwoofer system in general does much more to enhance the perceived "impact" of the audio system AND perceived volume. It also relieves the interior speakers of some of the burden of bass response, allowing them to play more loudly distortion free.
How does this work? Well, many don't realize that the vast majority of sonic energy in recorded music is in the lower frequencies (i.e. bass), and a subwoofer system that can accurately and powerfully reproduce those frequencies gives music its heft and impact when played back. Upgrading the amp for the interior speakers helps in this regard, but interior speakers just aren't optimized to produce bass, and ultimately won't get you there -- but a sub system will.
So, if the Stage One isn't enough for you in terms of overall volume output, we recommend one of our Ghost Subwoofer Systems.
Will the Stage One be visible from within the car or require any permanent modifications?
No, our Stage One Audio Upgrade is completely invisible within the car and totally reversible after installation.* Only you and your fellow listeners will know that you've upgraded your stereo since your car will maintain a 100% factory appearance within the vehicle.
*Some exceptions do apply, though this is rare. Please see "Installation" tab and enter your vehicle information to see installation guides and instructions which will outline any modifications required.
Will my BMW audio system be louder with the Stage One installed?
Yes and no. While the Stage One provides lush, detailed highs, more defined lows, and significantly more midrange detail, your factory BMW audio system's output is limited by your amplifier, which isn't changed with the Stage One.
However, the speakers included in the Stage One are capable of playing at higher volumes distortion free, meaning the usable volume limits of the system are indeed higher. Practically speaking, this means your BMW's audio system will indeed play more loudly!
Does the Stage One Audio Upgrade come with a warranty?
Yes, and it's one of the best in the business because we've engineered and built our speakers to last. You're covered for 4 years from the date of your purchase. If you ever have any issues, we're just a phone call away. Some limitations apply. See our warranty policy for more details.
What's the return policy on the Stage One?
We've got your back. Every single product we sell comes with a 100 Day In Car Trial. Install it, use it, and if you're not blown away, contact us and return your purchase within 100 Days. We'll take it back and give you a full refund as long as it's not damage, and you include all the original parts and packaging. Some conditions apply. See our Refund Policy for more information.